View & Download Booklet #1 Right At The Bottom Of This Page.
LifeWave Protocols & Patching Tools by PatchingProtocol.com
LifeWave Protocols & Lifewave Patches Simple & Easy To Apply Protocols List
LIFEWAVE PROTOCOLS - BOOKLE #1
For many years this ever-growing Lifewave Community around the world have been using the patches, and a great number of us, have never lost the enthusiasm and sometimes even the amazement or astonishment with what the patches can do…
I'm really fortunate to be actively patching for over 6 years now, and I came across so many patching combinations and cases that I personally thought to start a new type of Patching Tool:
LIFEWAVE PATCHES: The Most Simple And Easy To Apply Protocols List
A "Grand" compendium of Ideas in volumes that will be available for everyone to download and share as well as videos to refer to openly…
Well, here you have Booklet & Video #1.
Go through it and let us know what you think, because it's very important to us your feedback.
And remember that you can share your patching experience with everyone.
So, join us by sharing your experience and help us all grow.
This is Gabriel Diaz Enrico and I really hope you enjoy these new Patching Tools and all the LifeWave Protocols!.
DIGESTIVE DISCOMFORT
Let's start Booklet & Video #1 with something very common in all of us: Digestive Discomfort
A single CARNOSINE patch placed at CV12 position is a great protocol for Digestive Issues.
This is one of the protocols I've personally used the most on myself and others…
and it worked very well to almost anyone I know…
I personally find CV12 position a great acupoint to use and according to TCM is used for:
Stomach Discomfort like Stomach Pain, Bloatiness or Distention and lack of Appetite.
In short, Digestive problems in general…
I normally use CARNOSINE patch but I sometimes use GLUTATHIONE or AEON patches or even I stack them all 3 together and place them at CV12.
You can test single patches or a combination among patches and check how you react to them…
I have a little trick here that I wanted to share:
You can test a single ENERGY ENHANCER White patch on CV12 and place the Tan patch right at the other side of your body, in this case it will be at your back, right in line with the White patch in front, it's like the Arrow Technique that we've mentioned before in other videos…
You could test that too in any case of Digestive Discomfort or even a combination of all my suggestions and see which one is the best option for you…
The next protocol we have included here within the same Digestive Discomfort topic is for cases of Acid Reflux.
This is a very simple protocol and very effective as well…
Place and ICE WAVE White patch at your Sternum and the Tan patch at your belly button.
that's it…
That should work well quite fast…
I've also used this protocol many times on myself and other people and it worked well all the time…
You should test it…
Now, let's move to another topic:
Better Sleeping
A giant topic in the LifeWave Community of course…
and the next protocol is for cases where you find yourself thinking too much in bed…
It's like going around and around with your mind and not able to sleep…
Sometimes I get that myself…
Well, what I've found is that by placing an AEON patch between my Eyebrows
I just fall a sleep pretty easily, and also, I weak up really fresh…
It works well with SILENT NIGHTS too, but somehow or another I personally prefer AEON Patches…
That's my personal preference…
And here is why…
Before I go to sleep, maybe an hour or two hours earlier, I place the AEON patch at GV14 position…
then, I change it to my forehead or between my Eyebrows once I'm ready to sleep…
Test it, because it might work for you too…
You can test other patches too, SILENT NIGHTS of course, CARNOSINE or even GLUTATHIONE to see which one work best for you…
To find GV14 position is very easy:
If you flex your head slightly forward you will palpate a bone at the base of your neck which will remain fixed and won't move forward with your neck.
That is call C7 or Cervical Vertebra #7.
GV14 is located right below C7, in the space between C7 and T1 as you can see here…
It sounds harder than it is to find really…
Ok, the next topic is Nasal Congestion
and this is also a great protocol.
Very simple actually.
If you feel that your nose is congested, just place an ICE WAVE White patch at the right side of you nose and the Tan patch place it at at the left side of your nose.
Very simple right?
Please Remember WRTL: White to Right Tan to Left.
and I'am including here a personal addition to this great protocol:
If the congestion isn't clear quickly, test by adding an AEON patch between your Eyebrows, forming a triangle as you can see here…
That might help in some cases…
Next we are going to talk about Cough
And this is yet another very simple protocol that I've used in the past even during LifeWave Meetings. If someone had a cough among the audience I just ask their permission and I place a GLUTATHIONE patch at their Neck Dimple.
That position is called CV22.
and it usually works well.
Later part I discover that when the cough is more severe, you can also test CARNOSINE at CV21 instead, which is right below the Neck Dimple, at the top of your Sternum.
This is what I do with my kids if they have Cough.
Just a CARNOSINE patch and sometimes CARNOSINE Stacked with GLUTATHIONE and I place a single AEON patch at GV14 position.
or other option is, CARNOSINE, plus GLUTATHIONE and AEON all Stacked together at CV21 position.
Which option to use will depend entirely on the situation of course so, the best thing to do is to test…
That will be for cases of Cough.
Now, the last portion of this video includes 2 patching experiences…
And the first Patching Experience is related to Shoulder and Thigh Pain and it was shared by Bob from the US.
Let me read it to you:
"One of my most challenging patching experiences was with a woman that was thrown from a horse hurting her right shoulder and right thigh. I have always been taught to work on the worst pain first so I started with the shoulder. I used the cross method, added glutathione, carnosine, aeon, etc. and nothing worked. And, of course, I was in front of a room full of people who were watching the patches not work! After about 20 minutes, I thought, "Maybe the two pains are connected." So I placed the white patch directly on the pain in her thigh. She got really dizzy for a few seconds and had to sit down. I was a bit concerned and asked her how she felt.. She said as soon as I put the patch on her thigh, she felt a wave move through her body and when the wave went away, so did the pain. I've used this technique of working with pain in two separate locations resulting from the same incident since then and have had a great deal of success getting rid of both pains quickly."
Excellent share by Bob, thank you very much!.
and here we include some images with our own interpretation:
In cases of having 2 areas of pain simultaneously caused by a same incident.
STEP 1: place an ICE WAVE Tan patch at Point of Pain of higher intensity an in this example is at the Right Shoulder.
Then, STEP 2: place the ICE WAVE White patch at Point of Pain of lower intensity and in this example is at the Right Thigh.
What I like the most about Bob's story is his thinking process by saying:
"Maybe the two pains are connected."
That's key while patching others or even ourselves,
You have to ask yourself:
How Could I Work Around It
Instead of asking:
Why Isn't Working
Because sometimes we stop thinking and it's like we've done everything we could and that's usually not the case…
The patches are very flexible and we have all kind of options…
To me personally, we have no limits…
Now, I have another story…
This a personal experience I had and it does not involve patching, and I've decided to share it because it might be extremely helpful to many in cases of labour.
My first child's name is Mar, and 5 minutes before the labour was about to start, the Dr. said: "The Baby is not in position. I'll comeback in 5 minutes and if still isn't we will help her…", Help her?…, well, that's the worst option ever (In my opinion)… anyway, Dr. was gone for a moment so, I took my car key and pressed with it firmly BL67 position on my wife's left foot, after a while I changed to BL67 position on her right foot, well, nothing happened… Then, I started again at the left foot and suddenly my wife shouted: "SHE MOVED!!"… Dr. came back, saw the situation and said: "Mmhh, the Baby is now in position, we are ready to start…".

Just by pressing the right Acupuncture Point. That was beautiful…
Here you can see where BL67 is located: At the outer corner of the little toe's nail. Both side of course.
Now, if you ask how I knew about this Acupuncture point?.
Before my wife's delivery, I went to see my Acupuncture Master in Singapore and he gave me a long list of recommendations and one Acupoint he kept mentioning because of the importance, it was BL67.
Why using my car key instead of patches?, because there was not time and that's what my Master told me to do, if you really need to help the baby to be in position quickly, use a sharp object to press…
and that's what I did…
That was back in 2010, but when second child was born in 2013, I placed a set of ENERGY ENHANCER patches at BL67 on my wife's feet from the beginning and there where no complications at all…
Amazing stuff to say the least…
CONCLUSION
As you can see, all the patching suggestions included at this first Booklet & Video are very simple and easy to apply, however, please also take note that we are not looking into sever or chronic conditions either…
Lifewave Patches are great tools that could help us all in many situations and it could lead us to really solve our issues and the only way to do that in my opinion is by solving what is causing those issues…
One short example:
Throughout my life I had sever Digestive Issues that where manifesting in different ways like Chronic Constipation or Sever Stomach Pain or Haemorrhoids or Skin Rashes…
I started to patch to solve those issues separately but I was not addressing what was really causing them…
But What Was Causing My Issues Then?
In a "Mid-Level":
Imbalances.
But something else were causing these Imbalances obviously…
And that was: My Eating Habit
Making adjustments to the Quantity, Quality and Frequency of my food intake plus the help of the patches, I have managed to solve completely all the issues I had…
Everything is gone now…
And that's something I did not understand 6 years ago when I started with the patches and I thought that this very simple concept could trigger some New Ideas in your mind as of how to go about patching if you could really look into what is really causing your own issues…
Well, this is the end of this new Patching Tool called:
LIFEWAVE PATCHES: The Most Simple And Easy To Apply Protocols List

If you are watching this video on our YouTube Channel, please subscribe to it, there is a link for you to do that…
If you'd like to download the Booklet and keep it with you inside your phone or tablet and even share it with others, here you have the link of our page or you can get that link right below this video…
If you have a comment, it will be great to know what you think…
If you have a Patching Experience, it will also be great if you share it with us so we can include it in our next Booklet and Video…
This is Gabriel Diaz Enrico, I personally appreciate you being here and I will see you back again in Booklet & Video #2.
---
VIEW & DOWNLOAD BOOKLET #1 HERE: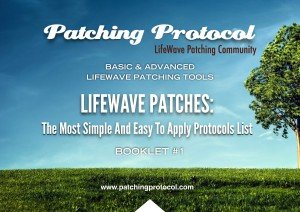 ---
More Patching Tools are available at our Free Area.
You can Join Us Here.

Thank You!
---
---
Watch other videos at our YouTube Channel:
https://www.youtube.com/user/patchingprotocol