This Shoulder and Thigh Pain Lifewave Patches personal experience was shared by Bob from the US.
Let me read it to you:
"One of my most challenging patching experiences was with a woman that was thrown from a horse hurting her right shoulder and right thigh. I have always been taught to work on the worst pain first so I started with the shoulder. I used the cross method, added glutathione, carnosine, aeon, etc. and nothing worked. And, of course, I was in front of a room full of people who were watching the patches not work! After about 20 minutes, I thought, "Maybe the two pains are connected." So I placed the white patch directly on the pain in her thigh. She got really dizzy for a few seconds and had to sit down. I was a bit concerned and asked her how she felt.. She said as soon as I put the patch on her thigh, she felt a wave move through her body and when the wave went away, so did the pain. I've used this technique of working with pain in two separate locations resulting from the same incident since then and have had a great deal of success getting rid of both pains quickly."
Excellent share by Bob, thank you very much!.
and here we include some images with our own interpretation:
Lifewave Patches Personal Experience: Right Shoulder and Thigh Pain
In cases of having 2 areas of pain simultaneously caused by a same incident.
STEP 1: place an ICE WAVE Tan patch at Point of Pain of higher intensity an in this example is at the Right Shoulder.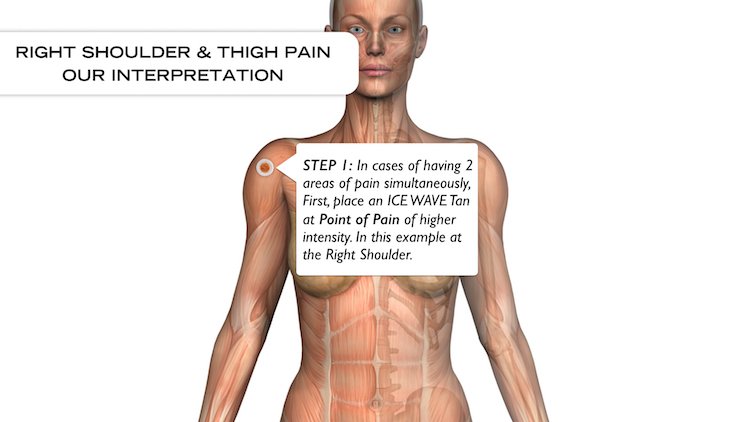 Then, STEP 2: place the ICE WAVE White patch at Point of Pain of lower intensity and in this example is at the Right Thigh.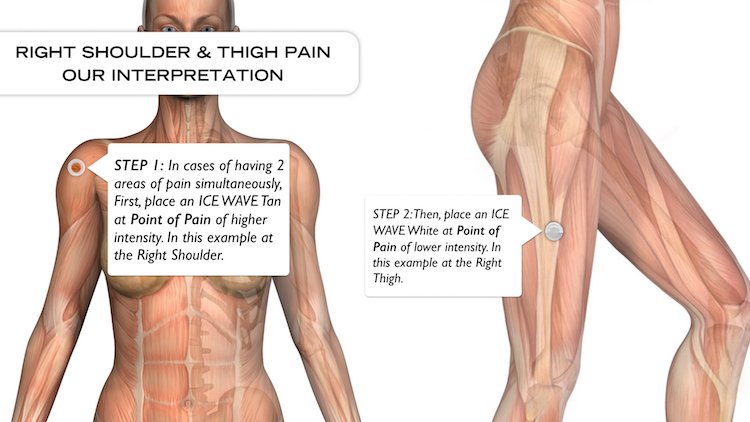 What I like the most about Bob's story is his thinking process by saying:
"Maybe the two pains are connected."
That's key while patching others or even ourselves,
You have to ask yourself:
How Could I Work Around It?
Instead of asking:
Why Isn't Working?
Because sometimes we stop thinking and it's like we've done everything we could and that's usually not the case…
The patches are very flexible and we have all kind of options…
To me personally, we have no limits…
Thank you for reading this post at our Blog and watching the video…
Next video will include some other interesting way to go about using Lifewave Patches…
Have a great day!
Cheers!
Gabriel Diaz Enrico
PS: A Lifewave Patches personal experience shared by Bob from USA telling us his story patching successfully a case of Right Shoulder and Thigh Pain...
---
---
For More Information About Lifewave Patches.
You can Join our Free Area Here.
Thank You!
---
If you have any question, you can Contact Us Here
---
Watch our videos at our YouTube Channel:
https://www.youtube.com/user/patchingprotocol
---
All Images Are Created And Published By Patching Protocol