A simple patching Protocol showing how to use Lifewave Patches For Smelly Feet.
According to TCM, a Putrid or "Rotten Fish" like Smell is associated to our Kidneys, and more specifically a weak Yin on that Meridian.
In general termas, all Secretions and Emanations from our body tend to get more concentrated or "Strong" if the Yin is weak…
and interestingly enough, all Secretions and Emanations become Less Smelly or Strong when their Water content increases…
Drinking water might not enough to correct Yin Weakness, although staying hydrated can help to prevent conditions associated to it. In Chinese Medicine, fluids are necessary and important for good health. It is when the body does not correctly regulate fluids that fluids can become a real problem.
So, once again, hydration is extremely important…
Now, let's look at how we could use Lifewave Patches For Smelly Feet:
We will just need one pair of Lifewave Energy Enhancer Patches placed on a great position called Kidney 7 or K7 Acupuncture Point…
Here you have the patching location: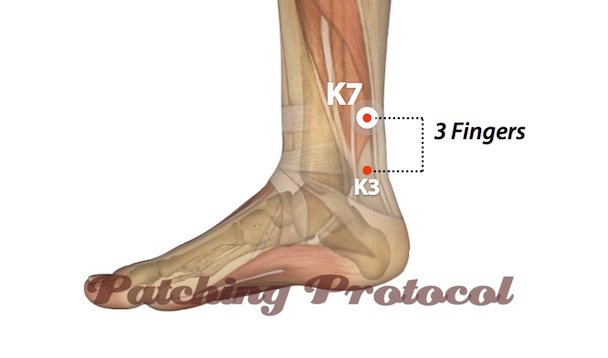 and that's it…
That's all you may need by now…
Try to place it some time in the morning, like 8 am for example, and you can test by keeping it in position for 12 hours or even till next day if you like… (Please test what's best for you).
My Personal Suggestion Using Lifewave Patches
Even though we can concentrate on a very specific position to patch at, like K7 in this case, what I always suggest, is to palpate along the meridian, trying to get a "Feeling" of how we are doing…
It might seem a bit tedious to start an "Extra Step" by palpating Acupuncture Points, specially when we have the patches, which we could just stick and get on quickly… However, in my personal experience, we are all better off by "Knowing" how we are doing at the time of patching…
And the best way to do that is by "Palpating" positions along the meridian we are going to patch at, and if we find a very Tender and Painful position, then, we are on the right track…
We can add another set of Lifewave Energy Enhancer Patches, placed exactly at the point we've found to be Tender and Painful.
The Lifewave Energy Enhancer White Patch should be placed on the Right Leg in this case and the Lifewave Energy Enhancer Tan or Brown Patch should be placed on the Left Leg in this case.
One More Addition To Test
I've said it before, one of the things I love the most about Lifewave Patches is their flexibility and how we can sort of "Build" interaction between patches…
Placing some Lifewave Energy Enhancer Patches will be great to "Move" energy through a meridian, and we could also add other patches and test how they could add extra "Benefits" to us…
For example you could add to the One Position For Smelly Feet, a Lifewave Glutathione Patch placed on Conception Vessel 3 or CV3 position.
Here you have that patching location: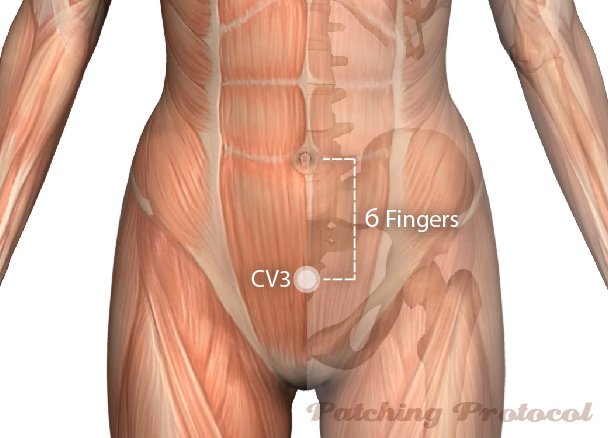 Conception Vessel 3 or CV3 (REN3) is located on the middle of the lower abdomen, 6 fingers bellow the umbilicus.
Along the years, I've personally found many different ways to place Lifewave Patches, trying to use the least number of them and to keep it simple, but I've also learned that we can benefit tremendously from the "Combination" between patches…
and that's one of the main reasons I've created the Patching Protocol Platform, to include "New Ideas" to base upon and to help all of us to "Explore" new possibilities…
I hope you've enjoyed this Lifewave Patches For Smelly Feet Blog Post and I'll be back again in my next post…
Have a great day ahead!
Cheers!
Gabriel Diaz Enrico
The Patching Protocol Team
PS: This is a very simple and very effective approach to use Lifewave Patches For Smelly Feet
---
---
For More Information About Lifewave Patches.
You can Join our Free Area Here.
Thank You!
---
If you have any question, you can Contact Us Here
---
Watch our videos at our YouTube Channel:
https://www.youtube.com/user/patchingprotocol
---
All Images Are Created And Published By Patching Protocol