Lifewave Patches Arthritis Book is the forth of the series showing different Patching Strategies and Formulations specifically for Arthritis.
My First Steps Dealing With Arthritis
Back in 2008 , I developed Arthritis due to an old injury at two of my fingers of my left hand. The pain started slowly increasing day by day, week by week, to a point where it was really hard to even close the hand into a fist. My arm was also painful and the pain was then moving up to my shoulder.
A Doctor told me that it wasn't really much to be done and he could only offer me Pain Killers.
So, it was a pretty disturbing time for me, and I used to hear the Dr.'s words in my head over and over: "It isn't much to be done", and that really stressed me out, even I did not pay much attention nor I was conscious of how that apparent "Impossibility" of solving what was happening to me, was affecting me in general.
Would I Have To Be In Pain Forever?
That was my question. How could that be?, and I could not believe that.
According to some studies, roughly 97% of Human Beings have Arthritis or Osteoarthritis.
In a way or another we are all developing it...
and to many of us, it does manifests at some point in our lives.
and the amazing part is that according to modern Medicine the cause of Arthritis is unknown.
And inside this Book, I'm including everything I found to be working for any case of Arthritis
Let's Start From The Beginning
When I started reflecting on how I'd create this book I realised that I've been formulating many different Protocols, Techniques and Frameworks for Arthritis over the years. I guess everyone likes to have a "Point & Shoot" kind of solution in hand, however, I thought within the context of Arthritis that the BEST information I could ever put in front of you is the way I think about it, and that involves some new concepts which helped me solve not only my own issues but many other people as well.
Here I include How TCM Defines Arthritis and a couple of very important concepts to always keep in mind.
Then I present a very useful Patching Strategy, as well as a big "Bonus" which I call an "Add On" explaining a way I have to deal with the "Root Cause" and quickly put it to the test together with the Patches.
Patching Formulations For Arthritis
I managed to formulate many Patching Protocols for Arthritis over the years, and the first one I'm including inside  is a 5 Days Arthritis Base Protocol.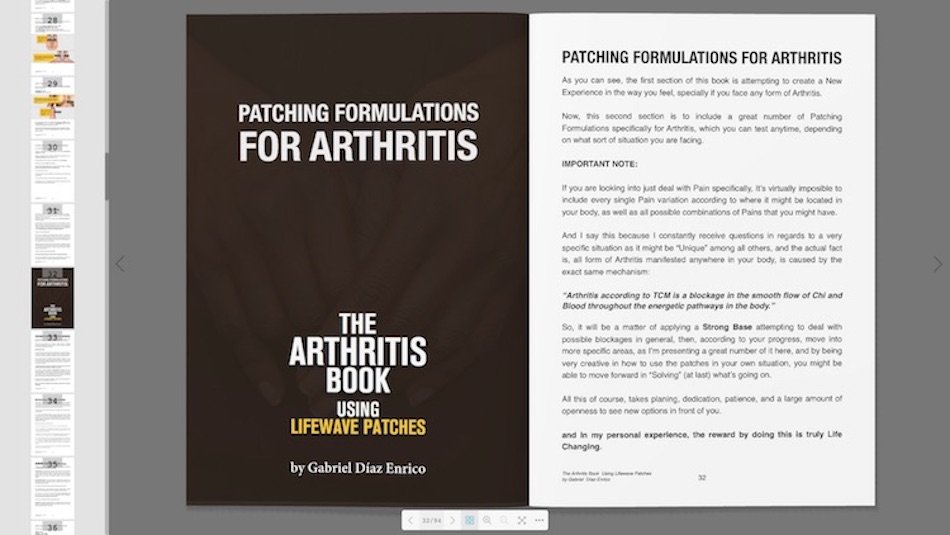 If you've been with Lifewave for some time, you might know by now that there is a very popular Protocol called the 5 Days Detox Program, well, looking at it, I formulated the Arthritis - Base Protocol applying a similar logic, and after many tests, I grouped different Acupoint Combinations specifically for Arthritis.
Then, there are several other formulations for specific issues like:
Arthritis - Ankle
Arthritis - Hand
Arthritis - Knee
Arthritis - Lower Leg (Numbness & Pain)
Arthritis - Shoulder Joint
Arthritis - Wrist
Neuralgia or Rheumatism In The Joints New Patching Strategies
The last section of this Lifewave Patches Arthritis Book is dedicated to Neuralgia or Rheumatism In The Joints including all Step-by-Step Patching Strategies for general issues and specific locations in the body.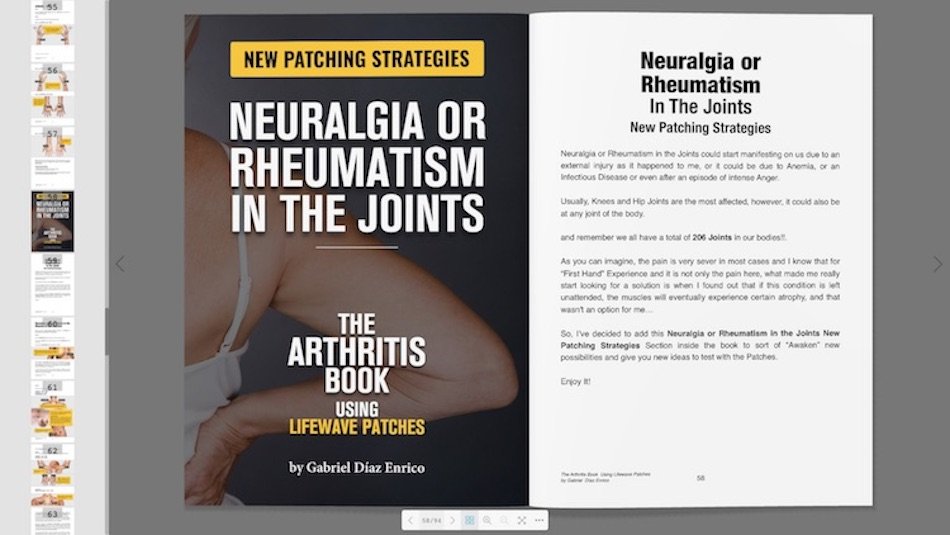 Conclusion
The first section of this book requires that you do some thinking, as well as taking "Inventory" of what's the real picture, and also, looking at your own situation, decide what Patching Strategy will be right for you to start. But what I'm really proposing here, is that the next steps you take are all attempting to create a New Experience of what's your situation right now.
Now, I Think This Is VERY IMPORTANT:
THE ARTHRITIS BOOK Using Lifewave Patches is a completely Virtual Book and accessible via your Account at PatchingProtocol.com
And There is no Shipping Involved.
Once you log on inside your account at PatchingProtocol.com, you will see THE ARTHRITIS BOOK Using Lifewave Patches Book Cover: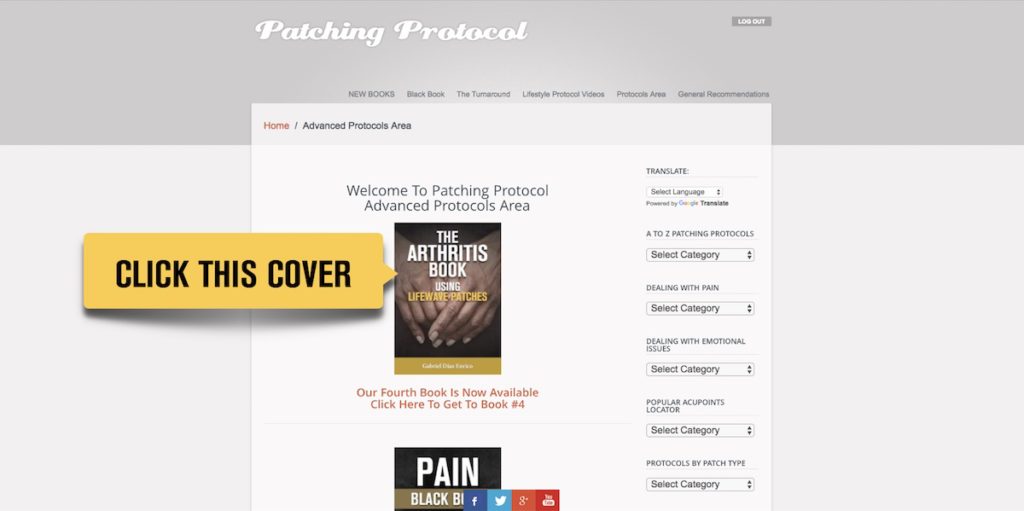 Just click that and you will be able to get the Book right away…
If you are yet to Join Us, you can do that by creating a Free Account Here and then, you'll be able to get this book once you are logged in...
Now, If you need any help in the process of getting the book or if you have any question, you can reach me here…
Thank you very much for being here and I wish you a Happy and Successful Patching!.
Cheers!
Gabriel Diaz Enrico
The Patching Protocol Team
PS: Lifewave Patches Arthritis Book is the forth of the series showing different Patching Strategies and Formulations specifically for Arthritis....
---
---
For More Information About Lifewave Patches.
You can Join our Free Area Here.
Thank You!
---
If you have any question, you can Contact Us Here
---
Watch our videos at our YouTube Channel:
https://www.youtube.com/user/patchingprotocol
---
All Images Are Created And Published By Patching Protocol