My Third Book is all about Lifewave Patches and Pain.
This Book is titled PAIN BLACK BOOK Using Lifewave Patches.
It has been really a long road since I've started with the patches back in 2008.
At that year I was living in Singapore, and because I started using Lifewave Patches on my self that year, I had a "Reason" to go deeper inside this completely new world of possibilities in the area of Pain.
And the "Keyword" here is "Possibilities"…
Nothing less than that.
Lifewave Patches and Pain
I start the book presenting what is the BIG PIECE that changed everything for me. A very simple concept that led me to look at things and to Think in a very different way than how I did up to that point.
and to me, that was the most important step I took in the journey I was going through to solve the long list of Pains I had for years.
At that point, I started to "Connect" everything I had, and I developed new Patching Strategies like the Pain Master Points Combination:
a new "Framework" that helped me to create a "Roadmap" according to what sort of Pain I had in front of me and that includes, cases that many others presented to me.
and adding to that, there are many different Techniques I've learned since I started Patching and I've personally formulated many as well, which I'm also including inside Chapter #3 and Chapter #4:
Simple Pain Techniques (Chapter #3)
Advanced Pain Techniques (Chapter #4)
Lifewave Protocols For Pain
At Chapter #5, I include a list of Lifewave Protocols, putting emphasis on a variety of options Using Lifewave Patches.
Ankle & Foot Pain

Back Pain

Brachial Plexus (Chronic Pain)
Carpal Tunnel Syndrome
Chest Pain

Frozen Shoulder
Gastric Pain

Genital Pain

Groin Pain

Hand Pain
Headache
Headache (Occipital)
Heel Pain

Hip Pain

Knee pain

Leg Pain & Swelling

Low Back Pain
Menstrual Cramps
Migraines
Myofascial Pain Syndrome
Neck Problems
Urination (Painful)
Plantar Fasciitis

Rectal Pain

Sciatica

Severe Pain
Shoulder Pain
Stomach Ache

Tennis Elbow
Toothache
Trigeminal Neuralgia
Whole Body Pain

Wrist Issues
Each of these protocols have been tested and "Adjusted" according to the results and the progress of either myself or anyone who tested them.
And as I said earlier, this Books is all about Lifewave Patches and Pain, but most importantly, it's about How to Look and Think about Pain.
and that's the reason I've added the Whole Body Pain Patching Strategy, exactly as I've been using it since I've formulated it.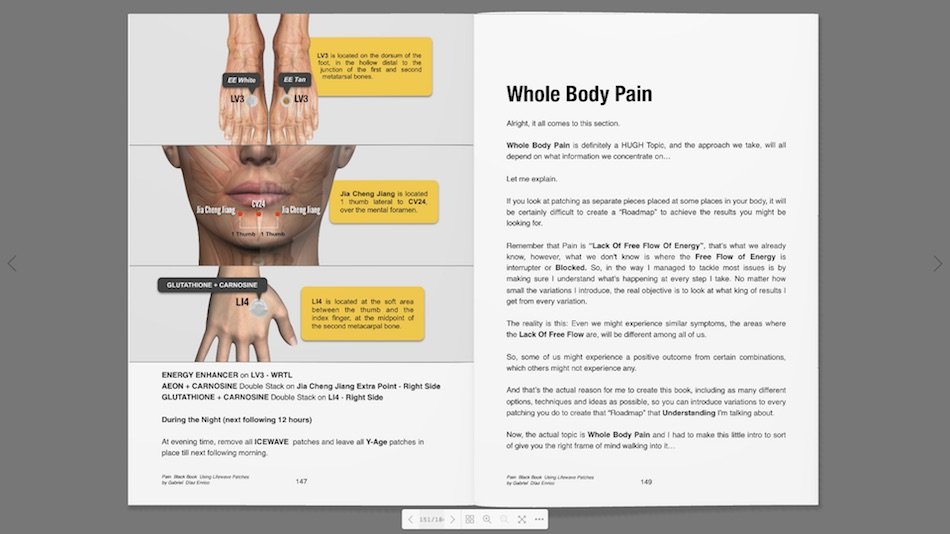 and if you read it carefully, it gives you only "Possibilities", because it isn't a "Fixed" Lifewave Protocol. It is a Lifewave Patching Strategy that can be used in many situations, independently of the kind of Pain you are dealing with…
In short, Book #3: PAIN BLACK BOOK Using Lifewave Patches includes different "Frameworks", Patching Strategies, Patching Protocols and Techniques, all well explained and each Acupoint Position has it's own image to help you locate it as simple as possible.
VERY IMPORTANT NOTE:
Book #3: PAIN BLACK BOOK Using Lifewave Patches is a "Virtual Book", accessible online anytime and from anywhere and also there is an option to Download if you need it as a reference locally and compatible with any device available.
Here you have our Books Page to find out how much it cost.
You can get this book by logging in inside your account at PatchingProtocol and by Clicking the Book Cover at the Top of your Account.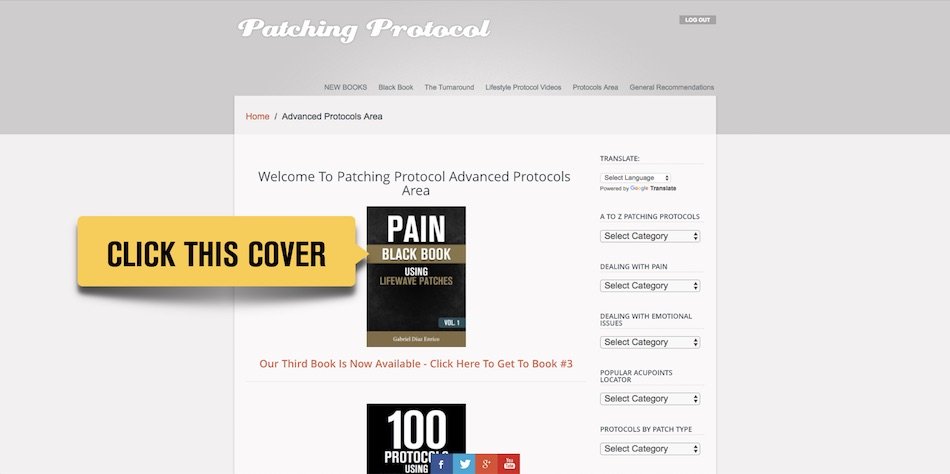 If you are yet to Join Us, you can do that by creating a Free Account Here and then, you'll be able to get this book once you are logged in...
Now, If you need any help in the process of getting the book or if you have any question, you can reach me here…
Thank you very much for being here and I wish you a Happy and Successful Patching!.
Cheers!
Gabriel Diaz Enrico